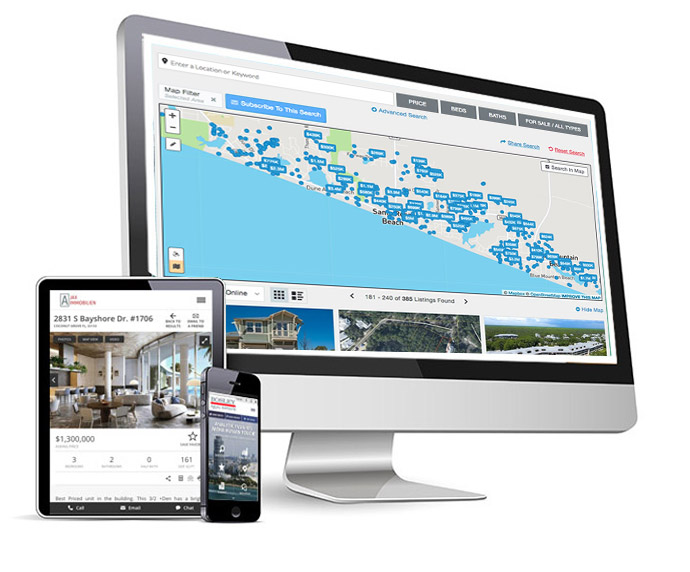 IDX is the single most important feature of a successful Real Estate website. Integrated IDX allows your visitors to search for and browse available properties for sale and rent on your website – displayed directly from your local MLS.
Through our partnership with Showcase IDX, your IDX feed will feature beautiful photos and the latest property descriptions displayed in a user friendly, well-designed format, available 24/7 on the computer or mobile device of your choice. In fact, our IDX is designed to work smoothly on any device without sacrificing functionality or user experience. 
Try out the most advanced IDX for Free for 30 days! 
Test out every feature and use live MLS data completely free for 30 days. You don't need to choose a plan or give us your credit card right now to get a fully-functional 30-day trial with live MLS data and all of our premium featured to evaluate on your website.
Our IDX gives your visitors the tools they need. 
– Fully Integrated Map Search
– Support for multiple MLS's in one search
– Lightning fast search response times
– Customizable to fit with any website design
– Data checked and updated every 15 minutes for most MLS's.
Our real-time CRM integrations connect your leads
and data with all the tools you love.
IDX for WordPress Pricing
Essentials
All the basics for agents and teams
15-Minute MLS Updates

Advanced IDX Search

Fast SEO Technology

Hotsheets and Widgets

Full Mobile Ready Map Search

Lead Capture & Basic Routing

Customizable Design

Family & Friends Social Search

Recommended Listings & Searches

So much more…
Premium
Premium content, integrations and more settings
Everything in the Essentials Plan, plus:

Real-time CRM Integrations

Demographic Listing Content

More Lead Registration Controls

8 Additional Map Styles

Round Robin Lead Routing

Featured Agent and Office Listings

Exclude Locations From Search Results

Additional Price Range Selections

More added all the time!
Pay For A Year Upfront And Save $120!
$599/yearly
Pay For A Year Upfront And Save $200!
$999/
yearly
Add-ons & Other Fees
– Additional Website Licenses
– Starts at $30/month/additional website
– Additional Admin/Agent Users
– Starts at $4/month/additional user
– MLS Pass-Through Fees Per website basis and depends on the MLS: Check here
Frequently asked billing and pricing questions
What types of payments do you accept?
We accept payments made online using Visa, Mastercard, Discover, and American Express. We cannot accept any personal or business checks.
How does the 30-day free trial work?
You can use Showcase IDX absolutely free for 30 days once we get your MLS paperwork approved from the MLS and send you everything you need to get started. We don't ask that you give us a credit card until you're ready to commit to activating your account past your trial period.
You have a full 30-days from the start of your trial to use all the premium features of Showcase IDX. We even cover all your MLS pass-through fees for the 30 days and there are no setup fees whatsoever.
Do I have to commit to a long-term contract?
Monthly Plans
No. There is no set-term contract when you use Showcase IDX on a monthly plan, other than agreeing to our Terms of Service. You can cancel your account at any time and you will not be billed again. To cancel your account, send us an email and we'll take care of it.
Yearly Plans
When you sign up for a yearly plan, you are committing to that plan for 12 months. The level (Essentials or Premium) of the yearly plan cannot be switched during this term. If you choose to cancel before the end of your 12-month-term, we will refund a prorated amount representing the remainder of your 12-month-term, along with an early cancelation fee of $200 taken out of the prorated refund amount.
I'm on a yearly plan, how do the add-ons work?
You get a substantial discount on yearly plans off the plan's base rate. All of your add-ons will be charged along with your yearly plan. At the time of selecting the plan we outline all charges ahead of time, so nothing is a surprise. We hate surprises.
How do I cancel my IDX subscription?
We only accept cancelations through email. We do this so all cancelations are tracked accurately and nothing slips through the cracks. Good for us. Good for you. If you try and cancel any other way, we'll just tell you to send us an email (hello@ciaobellamarketing.com) telling us you want to cancel and we'll process it.
Do you offer refunds?
We don't, as per the terms of service. All of our terms of service can be found in the customer agreement that new customers sign after they sign up along with their MLS paperwork.
What is a MLS Pass-Through Fee?
More and more MLS's require vendors like us to pay Data Access Fees that are passed through to the customer (you). These vary from $0/month up to $33/month. If we don't have to charge a pass-through fee, we don't. For the MLS you select, this will be clearly displayed on your sign up form, before you complete your sign up process. Although the rates may vary slightly, 99% of IDX companies charge these fees.